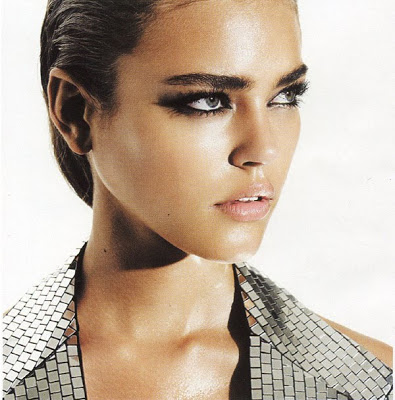 Moisturize first:Apply a lighter eye shadow from lash to brow in several layers so  there's full coverage.
"Think of this step as priming the wall before painting it, Using a different brush, sweep on a darker shadow from lash to crease.
"Continue to layer the color until you've reached the desired depth, but make sure it doesn't creep up onto your brow bone.
Trace a black liquid liner along the upper and lower lashes so that it meets at the outer corner of the eye and wings out slightly.
1.Use a medium-size round brush to apply charcoal gray powder in an arch shape just above the crease of the lid. Then blend down to the lash line.
2. Trace the upper lash line with a soft black pencil, then gently smudge with your fingertip.
3. With a smaller, firm-bristle brush, press a gunmetal shade into the lower lash line.
4. Apply a pale silver powder to the inner corners of the eyes to lighten the overall effect.
5. Pile on mascara.
Finish by curling your lashes and applying three coats of jet-black mascara on top and one coat on the bottom.
For a smoky eye in a flash, use just eyeliner. Rim lids with a black pencil, making the line quite heavy; then wipe it off. You'll be left with a sexy wash of color.
For a smoky eye, moisturize the area first, so when you line the lid with a pencil it will smudge naturally.
Drag your dark shadow brush over the liner while it's still wet. "This smudging technique creates that sultry look
Pile on mascara.
The model in the pic is Daria Pleggenkuhle
Follow her on instagram
https://www.instagram.com/dariasophiegram/