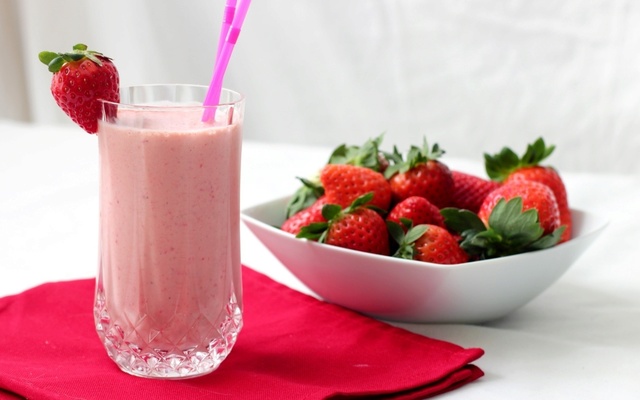 Ingredients
1/2 pound fresh strawberries, plus more to garnish
2 tablespoons white sugar
1 teaspoon vanilla extract
1 pint vanilla ice cream
3/4 to 1 cup whole milk
1 tablespoon malted milk powder OR regular powdered milk (optional)
1 pint strawberry ice cream
This shake is really yummy! Delightful and refreshing. In just a few simple steps you could be drinking a nice cool glass of strawberry milkshake. Sugar has been getting a really bad rep, when in fact, our body needs sugar, t's just that we need the right kind of sugars. If you got sweet strawberries then you do not even have to add sugar.
Pulse the sliced strawberries and syrup in a blender for approximately 10 seconds or until finely chopped.
Blend the ingredients for about two minutes or until they are thoroughly combined. Add milk and ice cream  a little at a time to achieve the desired consistency, whether you prefer thick or thin milkshakes.
Blend until mostly smooth with some pieces of strawberries remaining. Keep blending them until you've made a smooth and creamy milkshake. If you like to garnish your food you can grate a cashew over the top or slice a strawberry lengthwise and add it to the side of the glass.
If you like the taste of alcohol you can add a shot of rum.  Prettiest shake ever, love strawberries!