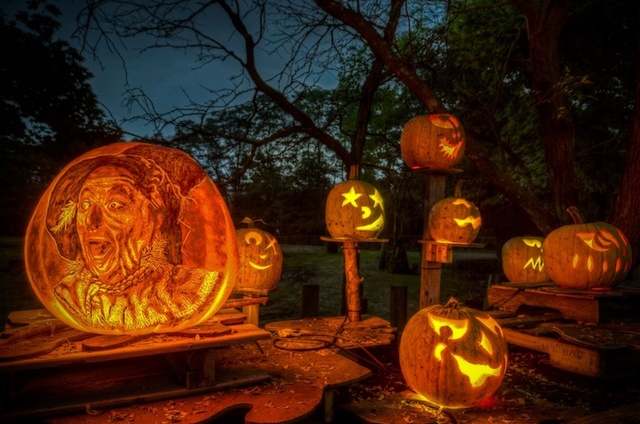 Brief History
Why the pumpkins though?
Much of the paraphernalia of Halloween relates to festivals like Samhain: Pumpkins, hay bales, apples and other signs of the harvest. Halloween colors, like orange, yellow and black, are basically the colors of changing leaves and darkening skies, Rogers said.
Many traditions, though, have roots in folklore. An old Irish legend tells of a trickster named Jack, who outsmarted the devil many times in life. In death, God refused to let Jack into heaven, and the devil refused to let him into hell. According to the tale, Jack was turned away from hell with only a burning coal to light his path, which Jack promptly put into a carved turnip to make a lantern. From this story emerged the tradition of carving faces in turnips to frighten away old Jack.
Pumpkins are native to North America, so when Irish immigrants brought their traditions over, they adapted: Out with the turnips, in with the orange gourds.
Night Of Fright
Monsters, stalking through the night,
Halloween is the Night of Fright.
Fear is what this night brings,
Along with many other things.
Are you sure you are prepared?
Tonight is not for the easily scared.
Creatures from hell roam on this night,
For tonight is the Night of Fright.
Trick or treat you say,
You should not have waited until the end of the day.
Tonight you will lose your tricks and treats,
For the monsters need to eat.
You better not take this night lightly,
Or else you will truly learn what fright means.
In ancient times people feared this night,
The night they greeted with fright.
Why they were so scared you will soon see,
On this "All Hollows Eve."
My Next Door Neighbor Is A Witch
My next door neighbor is a witch,
And she lives way down in a ditch.
Her clothing is a little strange,
Because she never wants to change.
She has a black robe and a black hat,
Green skin and a smelly black cat.
A big fat wart grows on her nose,
And seventeen pimples on her toes.
But…her food is EVEN worse,
Because she eats it course by course.
Her first course is seven dead bats,
Laid on top of seven rats.
Then she has twenty flies
With lots and lots of llama eyes.
Her main course is a horrible soup,
Because it's made with doggie poop.
But worst of all is her dessert.
It's little children rolled in dirt.
Last night she had a witch's feast
And turned into a greedy beast.
I think she cooked my best friend Tilly
And ate her with some peas and broccoli.
That scared me most of all!
Halloween Night


When days grow short and nights get cold
And autumn trees turn red and gold
Move, we may, through sun drenched days
'Midst leaves and berries and bales of hay
In our hearts we feel the lure
Toward darkness, shivers and things not pure
While ghostly shadows creep slowly by
Spying on witches and brooms that fly
Icy fingers that grab their prey
And do bad things 'til night turns to day
Heed this plea to stay inside
Find covers and blankets and sheets to hide
Slowly this night will fade to day
And fiends and monsters will crawl away
Once a year, on this dank night
We'll shake and shiver 'til morning light
https://www.zazzle.com/celebrationfunu?rf=238787058758547479