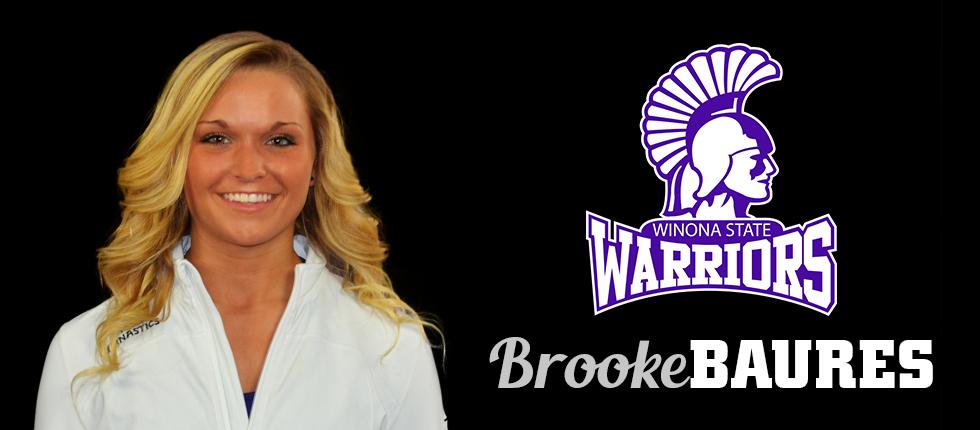 Authorities in Wisconsin are investigating the death of a college student whose body was found Monday in a food elevator at a bar and grill.
Police responded to a 911 call at the WingDam Saloon and Grill in Fountain City at about 8 p.m., and found the body of Brooke Baures, 21, a senior at Winona State University, in the food elevator connected to the kitchen. She was an employee at the restaurant.
There is a multi-agency investigation into the gymnast's death and officials would not speculate on the cause of death until after an autopsy is completed.
Jason Mork, the only police officer in the 859-person city, said the dumbwaiter's opening is about 3 feet by 3 feet, Fox 9 reported. The Winona Daily Newsreported that the elevator was not intended for employees to enter.
"I highly doubt [Baures] was using [the elevator] to move herself," he told Fox 9.  He said at this point he does not believe foul play was involved.
The restaurant was closed Tuesday night.
According to the U.S. Occupational Safety and Health Administration, food elevators accidents inside restaurants are rare. According to the OSHA database, only two incidents, both fatal, have happened in the U.S. between 2003 and 2013.
Baures, who majored in social work, was remembered as a "selfless teammate."
"She was one of those kids who touched a lot of people and who was very well liked," Eric Schoh, the university's athletic director, told the paper. "She was a big part of the gymnastics team, but also the athletic department."
College student killed by nut allergy
A 19-year-old college student in Michigan has died after accidentally coming into contact with peanut butter at a friend's apartment on Nov. 19. The Oakland Pressreports that Chandler Swink was diagnosed at age two with the most severe level of nut allergy—level six.
Someone at the apartment had made peanut butter cookies, and Swink's mother says the Oakland University sophomore either ate food that had somehow touched the cookies or was touched by someone who had peanut butter residue on his hands.
Chandler, who hoped to become a nurse, injected himself with an EpiPen and then drove himself to St. Joseph Mercy Oakland where he was found, unconscious, in the parking lot around 1am.
He was in a coma for a week, with doctors giving him a 2% chance of survival. The university's paper reports he died at 8:45pm yesterday; it previously reported that his family had been wrestling over whether to take him off life support.
Mom Nancy says Swink was bullied throughout his childhood for his allergy, which was so severe his school district went peanut-free for him, much to the displeasure of many.
"When he went to college, he was the happiest kid because he was no longer labeled," she says. "Every person who has come to visit him has said that Chandler is the most caring, generous, funny, easy going man they've ever met. …That's how he's lived his last two years." A GoFundMe campaign has been started to help the family.